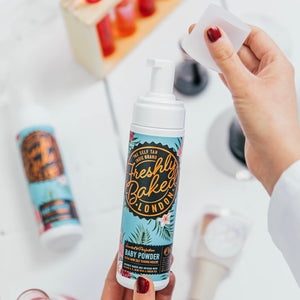 Ultra Dark Baby Powder Scented Self Tan Mousse
Ultra Dark Baby Powder Scented Self Tan Mousse


Recommended for olive complexions and experienced tanners.
*THE DEEPEST DARKEST FORMULA IN OUR COLLECTION*

This baby powder self tan mousse provides the skin with an instantly bronzed finish that gives the appearance of health and radiance effortlessly. Infused with super nourishing Vitamin E and Vitamin A, this self tanning solution not only imparts a divinely streak-free bronzed hue to the skin, but also cares, conditions and refreshes the skin featuring the delicately sweet and clean scent of baby powder. This self tan mousse is a Paraben and Alcohol free formula and is ensured to add a golden hue to the skin without appearing unnatural. With the inclusion of Aloe Vera and Green Tea Extracts, this effective product provides a flawless tan with a sumptuous scent, whilst simultaneously soothing and rejuvenating the skin, securing an impeccable finish.
Free from Parabens and Alcohol, 100% Cruelty-free and made in the UK.
Directions:
It is important to follow the instructions in order to get the best glow. Exfoliate to remove dry skin paying particular attention to areas such as knees, elbows, ankles, wrists and hairline. Use a self tanning applicator to achieve an even tan and protect hands. Apply mousse to applicator and smooth over face and body in gentle circular motions using the guide colour to make sure all areas are covered and the colour is even. Allow to dry for approximately 10 minutes before dressing and wear loose dark clothing during the development period. Adapt the results by leaving the mousse to develop for 4 hours for a dark glow and 8 hours for an ultra dark glow. For best results leave on overnight before showering giving you time to enjoy the delicious scent. Once your desired development time is complete, bath or shower to rinse off the guide colour and reveal your glow. Moisturise daily to maintain and prolong the life of your tan.
IMPORTANT you must patch test 24 hours before use. If any reaction occurred DO NOT USE. Wax or shave 24 hours before to avoid skin irritation.
Ingredients:
Aqua, Dihydroxyacetone, Propylene Glycol, Glycerin (Vegetable), Decyl Glucoside, Dimethyl Isorbide, Aloe Barbadensis (Aloe Vera leaf extract), Polysorbate 20, Ethoxydiglycol, Erythrulose, Phenoxyethanol, Sodium Benzoate, Parfum (Fragrance), Tocopherol, Retinyl Palmitate,CI16035, CI19140, CI42090.