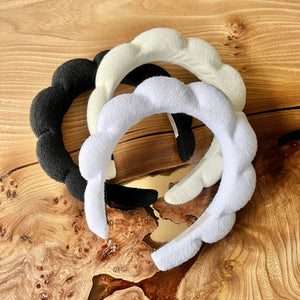 Self Care Headband
Self Care Headband
Available in shades noir (black), vanilla (cream) and foam (white).
The viral TikTok headband has arrived for your tanning routine. When we saw this headband on all the leading creators we knew it would be perfect for self tanning too so we produced a top quality version of our own. These super soft, super flexible headbands have took the GRWM to a whole new level so make sure you get a slice.

Composition: Towelling fabric.