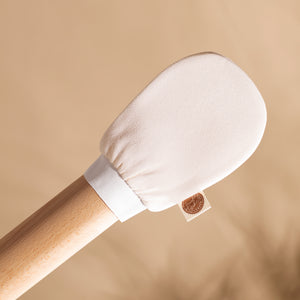 Remove & Renew Mitt
Remove & Renew Mitt
ADD ME TO YOUR BAKING BOOK - I CLIP IN TO THE BAKING BOOK WHICH CAN BE PURCHASED SEPARATELY.
The Freshly Baked London removal mitt gets to work on the skins top layer effortlessly removing stubborn self tan. Not only is it the perfect removal tool for your self tanning routine but it doubles as a natural prep for your next application. Adding this mitt into your tanning routine boasts a huge amount of natural skincare remedies including detoxifying, beautifying and regenerating the skin making it a must have tanning tool.

Directions: For first time use of your mitt, hand wash it thoroughly with hot water.
1. For the perfect peel you skin needs to be supple. Take a hot bath or shower for 5-10mins, do not use any products on your skin.
2. Wet the mitt under the warm water and squeeze out any excess.
3. For the mitt to correctly activate it needs to be used on wet, fresh skin that does not have any products on and your body needs to be removed from the water so it is just slightly damp, if the skin is too wet peeling may not occur.
4. Firmly rub your skin in circular motions with your hand inside the glove for more grip until you see any stubborn tan peeling away from the skin.
5. After exfoliation rinse your body under the water to remove any dead skin cells that have peeled away.
6. You are now ready to reapply your self tan in 24 hours time.
Notes: Hand wash only with hot water. Reshape when wet and line dry. Replace your glove every couple of months to avoid bacteria build up.
Composition: Viscose with Terry Towelling liner.