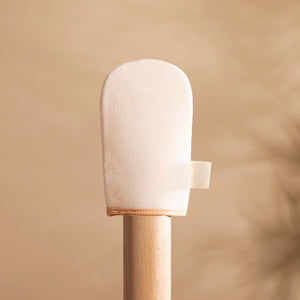 Double Sided Velvet Self Tanning Mitt
Double Sided Velvet Self Tanning Mitt

The Freshly Baked London deluxe self tan mitt creates an easy, even and streak free application. The unique inner lining resists the tanning formula to ensure stain free hands and the velvet outer layer creates the perfect airbrushes tan every time. The double sided glove gives you twice the usage along with the ability to be machines washed and reused again.

Directions:
Recommended to use with FBL's self tanning formulas for best tried and tested results. Apply tanner to glove and rub in circular motions over face and body, for advanced tanning directions please see the back of your tanning product bottle. To clean simply machine wash up to a max of 30C or hand wash with warm water. After washing the glove must be line dried in the shade, do not place in the tumble dryer.

Composition:
Velour, Sponge, TPU Film.

Caution:
Do not iron. Do not bleach. Do not leave damp. Do not allow to come into contact with other fabrics after use.